The Bowery Mission
The information on this page was last updated 11/8/2022. If you see errors or omissions, please email: [email protected]
---
Summary
The Bowery Mission serves homeless and hungry New Yorkers and provides services that meet their immediate needs and transforms their lives from poverty and hopelessness to hope.

Today, The Bowery Mission is a results-oriented organization that is recognized as one of New York City's most effective.
---
Contact information
Mailing address:
The Bowery Mission Support Center
355 Lexington Ave
Floor 19
New York, NY 10017
Website: www.bowery.org
Phone: (212) 684-2800
Email: [email protected]
---
Organization details
EIN: 131617086
CEO/President: James Winans
Chairman: Scott Stephenson
Board size: 12
Founder: Joseph Spurgeon
Ruling year: 1939
Tax deductible: Yes
Fiscal year end: 09/30
Member of ECFA: Yes
Member of ECFA since: 1987
---
Purpose
The Bowery Mission is called to minister in the New York metro area to men, women, and children caught in the cycles of poverty, hopelessness and dependencies of many kinds, and to see their lives transformed to hope, joy, lasting productivity and eternal life through the power of Jesus Christ.
---
Mission statement
To be the most effective provider of compassionate care and life transformation for hurting people in the New York metro area.
---
Statement of faith
The core beliefs and truths held by The Bowery Mission, Mont Lawn Camp and Mont Lawn City Camp are illustrated in our statement of faith:

1. We believe in one God, eternally existent as God the Father, God the Son, and God the Holy Spirit.

2. We believe that the Bible, composed of the Old and New Testaments, is God's inspired and infallible Word, and is the supreme standard and final authority for all conduct, faith, and doctrine.

3. We believe in the deity of the Lord Jesus Christ, in His virgin birth, in His sinless life, in His miracles, in His vicarious and atoning death, in His bodily resurrection, in His ascension to the right hand of the Father, and in His personal return in power and glory.

4. We believe that man was created in the image of God, but by willful transgression became sinful and is justly under the condemnation and wrath of Almighty God.

5. We believe that the only salvation from this guilt and condemnation is through faith in the righteousness and atonement of the Lord Jesus Christ, and that this salvation is the free gift of God's love and grace.

6. We believe in the personality of the Holy Spirit and that His ministry is to reveal Christ to men, to convict of sin, to regenerate repentant sinners and, by His presence and power, to sanctify the lives of the redeemed.

7. We believe that there will be a resurrection of the just and the unjust; the just, having been redeemed by the shed blood of the Lord Jesus Christ, to be with Him throughout eternity in glory; the unjust, having died impenitent and unreconciled to God, eternally separated from God.

8. We believe that all believers are called to obey not only the first great commandment, to love God with all our heart, soul, mind and strength, but also the second great commandment of our Lord: "You shall love your neighbor as yourself."

9. We believe that ministry to "the least of these" (Matt 25:40) in the name of Christ is commanded for all Christians and should be the basis of our purpose statement.
Donor confidence score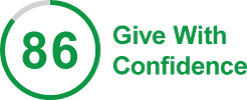 Show donor confidence score details
---
Transparency grade
A
To understand our transparency grade, click here.
---
Financial efficiency ratings
Sector: Rescue Missions/Homeless Shelters
| | | | |
| --- | --- | --- | --- |
| Category | Rating | Overall rank | Sector rank |
| Overall efficiency rating | | 914 of 1085 | 122 of 144 |
| Fund acquisition rating | | 981 of 1088 | 140 of 144 |
| Resource allocation rating | | 978 of 1088 | 127 of 144 |
| Asset utilization rating | | 385 of 1085 | 44 of 144 |
---
Financial ratios
Funding ratios
Sector median
2022
2021
2020
2019
2018

Return on fundraising efforts Return on fundraising efforts =
Fundraising expense /
Total contributions

11%
25%
22%
18%
30%
26%

Fundraising cost ratio Fundraising cost ratio =
Fundraising expense /
Total revenue

9%
24%
22%
17%
28%
21%

Contributions reliance Contributions reliance =
Total contributions /
Total revenue

92%
98%
99%
99%
95%
79%

Fundraising expense ratio Fundraising expense ratio =
Fundraising expense /
Total expenses

11%
23%
27%
19%
22%
20%

Other revenue reliance Other revenue reliance =
Total other revenue /
Total revenue

8%
2%
1%
1%
5%
21%
Operating ratios
Sector median
2022
2021
2020
2019
2018

Program expense ratio Program expense ratio =
Program services /
Total expenses

79%
70%
68%
75%
70%
71%

Spending ratio Spending ratio =
Total expenses /
Total revenue

87%
104%
84%
89%
129%
102%

Program output ratio Program output ratio =
Program services /
Total revenue

68%
73%
57%
67%
90%
73%

Savings ratio Savings ratio =
Surplus (deficit) /
Total revenue

13%
-4%
16%
11%
-29%
-2%

Reserve accumulation rate Reserve accumulation rate =
Surplus (deficit) /
Net assets

9%
-3%
14%
11%
-20%
-1%

General and admin ratio General and admin ratio =
Management and general expense /
Total expenses

9%
6%
5%
6%
8%
8%
Investing ratios
Sector median
2022
2021
2020
2019
2018

Total asset turnover Total asset turnover =
Total expenses /
Total assets

0.52
0.70
0.64
0.74
0.68
0.46

Degree of long-term investment Degree of long-term investment =
Total assets /
Total current assets

2.61
2.23
2.12
2.35
2.25
1.93

Current asset turnover Current asset turnover =
Total expenses /
Total current assets

1.62
1.56
1.37
1.74
1.52
0.89
Liquidity ratios
Sector median
2022
2021
2020
2019
2018

Current ratio Current ratio =
Total current assets /
Total current liabilities

14.13
8.25
10.85
12.03
9.80
23.92

Current liabilities ratio Current liabilities ratio =
Total current liabilities /
Total current assets

0.07
0.12
0.09
0.08
0.10
0.04

Liquid reserve level Liquid reserve level =
(Total current assets -
Total current liabilities) /
(Total expenses / 12)

6.85
6.76
7.98
6.34
7.10
12.92
Solvency ratios
Sector median
2022
2021
2020
2019
2018

Liabilities ratio Liabilities ratio =
Total liabilities /
Total assets

7%
12%
11%
21%
24%
19%

Debt ratio Debt ratio =
Debt /
Total assets

0%
0%
0%
11%
11%
10%

Reserve coverage ratio Reserve coverage ratio =
Net assets /
Total expenses

167%
126%
139%
107%
113%
176%
---
Financials
Balance sheet
Assets
2022
2021
2020
2019
2018
Cash
$1,708,291
$1,948,216
$3,775,809
$1,866,838
$1,526,862
Receivables, inventories, prepaids
$3,477,244
$5,071,443
$4,190,151
$5,783,103
$4,760,458
Short-term investments
$11,147,186
$11,485,883
$7,502,497
$7,140,371
$13,500,929
Other current assets
$0
$0
$0
$0
$0
Total current assets
$16,332,721
$18,505,542
$15,468,457
$14,790,312
$19,788,249
Long-term investments
$0
$0
$0
$0
$0
Fixed assets
$16,343,954
$16,242,772
$16,093,106
$16,402,445
$16,429,863
Other long-term assets
$3,783,099
$4,454,727
$4,730,097
$2,037,945
$1,991,436
Total long-term assets
$20,127,053
$20,697,499
$20,823,203
$18,440,390
$18,421,299
Total assets
$36,459,774
$39,203,041
$36,291,660
$33,230,702
$38,209,548
Liabilities
2022
2021
2020
2019
2018
Payables and accrued expenses
$1,979,885
$1,704,850
$1,285,949
$1,335,493
$763,016
Other current liabilities
$0
$0
$0
$173,074
$64,225
Total current liabilities
$1,979,885
$1,704,850
$1,285,949
$1,508,567
$827,241
Debt
$105,326
$121,608
$3,824,919
$3,761,173
$3,798,418
Due to (from) affiliates
$0
$0
$0
$0
$0
Other long-term liabilities
$2,205,707
$2,294,958
$2,334,814
$2,583,236
$2,537,586
Total long-term liabilities
$2,311,033
$2,416,566
$6,159,733
$6,344,409
$6,336,004
Total liabilities
$4,290,918
$4,121,416
$7,445,682
$7,852,976
$7,163,245
Net assets
2022
2021
2020
2019
2018
Without donor restrictions
$22,146,109
$21,300,985
$16,522,258
$14,971,317
$19,090,367
With donor restrictions
$10,022,747
$13,780,640
$12,323,720
$10,406,409
$11,955,936
Net assets
$32,168,856
$35,081,625
$28,845,978
$25,377,726
$31,046,303
Revenues and expenses
Revenue
2022
2021
2020
2019
2018
Total contributions
$24,063,529
$29,918,363
$29,641,391
$16,515,520
$13,590,695
Program service revenue
$263,656
$127,141
$245,952
$491,985
$391,511
Membership dues
$0
$0
$0
$0
$0
Investment income
$304,688
$103,426
$208,009
$334,869
$3,119,744
Other revenue
($37,068)
$115,204
($13,805)
$44,057
$127,531
Total other revenue
$531,276
$345,771
$440,156
$870,911
$3,638,786
Total revenue
$24,594,805
$30,264,134
$30,081,547
$17,386,431
$17,229,481
Expenses
2022
2021
2020
2019
2018
Program services
$17,961,391
$17,187,402
$20,109,811
$15,664,188
$12,569,839
Management and general
$1,617,622
$1,386,808
$1,523,399
$1,844,303
$1,495,159
Fundraising
$5,910,003
$6,697,930
$5,211,851
$4,930,544
$3,547,128
Total expenses
$25,489,016
$25,272,140
$26,845,061
$22,439,035
$17,612,126
Change in net assets
2022
2021
2020
2019
2018
Surplus (deficit)
($894,211)
$4,991,994
$3,236,486
($5,052,604)
($382,645)
Other changes in net assets
$0
$0
$0
$0
$0
Total change in net assets
($894,211)
$4,991,994
$3,236,486
($5,052,604)
($382,645)
---
Compensation
| | | |
| --- | --- | --- |
| Name | Title | Compensation |
| James Winans | President/CEO | $261,762 |
| Robert P Depue | CFO/Treasurer | $229,579 |
| Laurie-Anne Bentley | Chief Development Officer | $193,986 |
| Cheryl Mitchell | Chief Program Officer | $170,556 |
| Sarino Tropeano | Chief Operations Officer | $170,370 |
| Melanie Donato | Marketing Director | $125,519 |
| Rob DeGuzman | Clinical Director | $124,548 |
| Emily Solway | Executive Advisor | $119,846 |
| Elizabeth Caraballo | General Counselor | $106,923 |
Compensation data as of: 9/30/2022
---
Response from ministry
No response has been provided by this ministry.
---
The information below was provided to MinistryWatch by the ministry itself. It was last updated 11/8/2022. To update the information below, please email: [email protected]
---
History
Christian Herald traces its roots back to 1878 when Joseph Spurgeon, cousin of the great British preacher Charles H. Spurgeon, sailed to New York City to establish an American version of the British weekly, Christian Herald and Signs of Our Times.

The newspaper slowly, but steadily increased in circulation, thanks primarily to topnotch preachers such as Spurgeon and T. DeWitt Talmadge, thorough reporting and the application of scriptural principles to current events.

In 1890, Dr. Louis Klopsch, a German-born entrepreneur with a vision for the power of the printed page, bought the magazine. With Klopsch at the helm, Christian Herald sharpened its reputation as exceptional Christian family reading and developed into a large charitable enterprise, meeting the needs of suffering humanity in every corner of the world.

The focus of this widespread charitable effort, however, started here at home. In 1894, the Christian Herald began publishing regular reports of the suffering among New York City's poor. A winter "Food Fund" was launched to help the destitute survive the winter. Many of these poor souls had just immigrated to New York City and had not yet found adequate means of making a living.Children gather for a trip to Mont Lawn Camp

When spring arrived, Klopsch faced a problem - What would he do with the several thousand dollars left over from the food drive? It was suggested the money be used to give a summertime outing to the children of the families that had been helped through the Food Fund.

Klopsch enthusiastically embraced the idea and within a month arranged to bring children to an estate in Nyack, New York belonging to his friend, the Reverend Lawrence Jewett. The first children arrived at Mont Lawn Camp by horse-drawn carriage on June 14, 1894.

Klopsch started out renting the sprawling estate with steep wooded hills for $1 a month. After Jewett's death several years later, Christian Herald bought the property.

In 1895, another pressing need caught Klopsch's attention. It seemed The Bowery Mission, established in 1879 by the Rev. and Mrs. A. G. Ruliffson, was in serious financial difficulty after its original superintendent died.

Klopsch had already learned of The Bowery Mission during a visit to Smyrna on his return from a trip to the Holy Land with Talmadge. An English-speaking mission there was run by a former seaman, John Parkinson, who had been converted at The Bowery Mission.

Christian Herald purchased The Bowery Mission, then at 14 Bowery, to prevent it from falling under secular control. Since then, The Bowery Mission has remained within 10 blocks of its original location, demonstrating Christian Herald's deep commitment to heal shattered lives in New York City. It was written in Christian Herald at the time The Bowery Mission was purchased: "There is probably not a country under the sun, to which the Gospel of Jesus Christ has come, where the name of The Bowery Mission of New York is not known. It is a Mission that stands for 15 years of earnest, consecrated Gospel work, and its converts are scattered all over the world... and found in many states, holding steadfastly to the truth as they accepted it in the grand old Mission that has stood these many years."

1890s - 1950s: A Global Reach

After the work of The Bowery Mission was stabilized, Klopsch extended the ministry of Christian Herald overseas, continuing to use the magazine's growing influence as a force for social change. The publication always strived to achieve a balance between preaching the need for personal salvation and translating faith into action via the Social Gospel.A meal being served to hundreds at The Bowery Mission

Through the years, mercy fleets carried food and other relief items collected by Christian Herald from its loyal and generous readers to India, Armenia, Cuba, Finland, Sweden, Norway, China, Japan, Italy, Mexico and Palestine.

The Christian Herald organization also began establishing orphanages in parts of Asia ravaged by war and famine. At one point, the organization was responsible for 11 orphanages, housing 1,400 children throughout China, Hong Kong and Korea. These orphanages prepared children for useful citizenship by teaching general academic courses and providing training in crafts and trades such as wood-working and printing.

Through the pages of Christian Herald, Klopsch and his successors issued appeals for readers to come to the relief of victims of the San Francisco earthquake, the Galveston hurricane and the Kansas City flood. Readers responded with overwhelming generosity. Christian Herald had earned a reputation not only as the leading American Christian family magazine, but also as a clearinghouse for charitable contributions. Time after time, readers responded overwhelmingly to an appeal for aid. Klopsch alone was estimated to have raised $3,300,000 in his day.

1940s - 1990s: Years of Change

The organization continued the tradition of spreading the Gospel and practicing in deed what was preached in the pages of Christian Herald. Over the years, many talented writers, editors and leaders left their unique marks on the publication, including Charles Sheldon, J.C. Penney, Daniel Poling, and Dr. Robert Cook.Coffee being served at The Bowery Mission

Its legacy of strong leadership continued as well, into the post-World War II year's right through the 1960s through the efforts of the internationally-known author, lecturer and humanitarian Daniel Poling. Poling was a special wartime emissary of Presidents Roosevelt, Truman and Eisenhower and was the first clergyman to receive the nation's highest civilian award, The Medal for Merit.

Poling's successor as editor of Christian Herald, Ford Stewart, initiated a new venture for the organization - a book club that would grow to become Family Bookshelf. The club fit well with the Christian Herald philosophy of not just preaching against evil but doing something about it. In the December 1948 issue of Christian Herald, the establishment of Family Bookshelf as "a club you can trust" was announced.

The book club was seen as a way to combat the increasing amount of profanity, sex and secular values being promoted in the day's books. Family Bookshelf also produced a healthy revenue stream that helped keep the magazine afloat.

Meanwhile, Mont Lawn Camp continued as an integral component of Christian Herald's multifaceted ministry. Increasing suburbanization, however, began to encroach on the Nyack location. To ensure that needy inner city children would have a refreshing, rural retreat, Christian Herald purchased a 190-acre camp high on a hill above the Delaware River in Pennsylvania's Pocono Mountains. Mont Lawn was moved there in 1963.

As the turbulent decade of the 1960s came to a close, Christian Herald felt the first winds of what would become a growing financial pinch. Radio and television were attracting a larger share of advertising dollars, secular charities were crowding the nonprofit market, production costs for the magazine had soared and, to top it off, circulation was dwindling.

One strategy applied to stem the growing financial loss was the movement of Christian Herald's administrative offices out of New York City and into the less-expensive Westchester suburb of Chappaqua during the fall of 1973.

At the same time, the Christian book industry was enjoying healthy growth nationwide. Christian Herald capitalized on the trend by launching a second book club offering exclusively Christian literature. Increasingly, the book clubs - led by Family Bookshelf - set the financial pace for the organization.

The magazine's financial struggle grew more severe during the late 1970s and early 1980s. Part of the difficulty may have been the result of quieter, less public leadership. From Poling's tenure on back to the founding of the magazine, Christian Herald leaders had been very public figures for whom the magazine was basically an extension.

But the major factor in the magazine's decline was the proliferation of competing Christian publications, each aimed at a specialty audience. The same trend had earlier occurred in the secular market. After some 3,300 issues, Christian Herald ceased publication with the May-June 1992 issue. The magazine was America's oldest continuously published religious magazine.

1994 - present: A Renewed Focus

In 1994, led by a Board Task Force and new President, Edward Morgan, the Christian Herald organization turned to the ministry where the need was growing and the organization had demonstrated success in the past. Efforts quickly became concentrated on rebuilding lives shattered by addictions, broken relationships and homelessness in the City of New York.

A new purpose statement and sharper vision were developed and the task for building a solid structure of private support from donations began.

In January 1994, The Bowery Mission Transitional Center opened its doors with an innovative 77-bed program, funded by New York's Department of Homeless Services. The program quickly gained a reputation as one of the most effective substance abuse programs in New York City.

In May 1995, Christian Herald became one combined nonprofit corporation, focused on its purpose statement. In 1995 a new strategic plan, Project 2100, sharpened the focus of the organization and laid out a course of action. In late 1995, Family Bookshelf, Christian Herald's last strictly communications business, was sold to Eagle Publishing of Washington, D.C.A camper at Mont Lawn Camp with a counselor

In 1996, Christian Herald Children became a focused new ministry called Kids With A Promise, offering year-round services in addition to Mont Lawn Camp. After school programs were planned to teach inner city children skills for the prevention of academic failure and focused spiritual development.

As the organization re-focused on building the city's most effective compassionate care and life transformation organization for people in need, resources began to build and the organization brought in new talent. The Chappaqua headquarters property was sold and headquarters returned to the great City we serve, headquartered at a multi-purpose ministry building at 132 Madison Avenue. By 2000, Christian Herald's ministries were positioned to be self-supporting, supported by over 40,000 individuals, 200 major donors, 40 foundations, a dozen corporations and two government agencies.

The ministries were becoming increasingly visible in the City through effective publicity and events such as a yearly Valentine's Gala at New York's famed Rainbow Room. The ministries played a leadership role in the Charitable Choice initiatives of the first Bush administration, garnered a grant from the Justice Department and were featured at the August 2004 Republican National Convention.

In 2002, a $1.1 million capital campaign resulted in the renovation of the flagship ministry, The Bowery Mission, drawing favorable press. The Bowery Mission also added free medical services for its clients and community.

In 2004, the ministry celebrated its 125th Anniversary with special events and the re-opening of a 20-bed women's residential program on the Upper East Side, supported by many influential women in New York and housed in a beautifully renovated townhouse.

In 2005, The Bowery Mission's Gala event earned a record $1.6 million and the ministry started services to alumni of its recovery programs, including a jobs network. By 2005, all of its adult locations had computer-based career learning centers.

In 2006, Christian Herald's total funding, from all sources, exceeded $10 million for the first time ever - three times what it was a decade before.

In 2007, the Mission began partnering with New York City Relief for street outreach.

In 2008, the ministry acquired Heartsease Home Inc. through a Board-based merger and gained permanent access to our Women's Center townhouse.

In 2009, Christian Herald confronted a very significant economic downturn with faith and trust in God's providence, launching a new initiative called Don't Walk By, which brought together other faith-based partners to conduct a five-week street outreach to the homeless on every block in Manhattan. We celebrated the 100th Anniversary of The Bowery Mission's signature Chapel with a five-week arts series, a commemorative ceremony hosted by Paula Zahn and attended by a number of New York's prominent leaders, and the publication of a history of the Chapel.

In 2010, we graduated a recent record of 170 men and women to a new life of faith, sobriety, productivity and hope. Transformed lives remain the central focus and we are grateful for nearly 2,500 lives transformed since 1995.

In 2011, a feasibility study revealed that The Bowery Mission now had enough influence and influential friendships to undertake an historic expansion.

Board and management took a year to determine how and where to expand and how to see more lives transformed, and the Board unanimously voted to grow by reaching new neighborhoods.

In September of 2012, the organization launched a $12.8 million capital campaign to double the number of men's and women's recovery program beds and establish a year-round ministry to Mont Lawn Campers, beginning in the South Bronx.

New men's facilities were purchased at 315 E. 115th Street in East Harlem, new women's facilities were purchased for renovation in Central Harlem, three new lodges were planned at Mont Lawn, and property was leased in the South Bronx.

As President Edward Morgan's 20th year in office ended in 2013, the capital campaign was 83% complete, the new facilities had begun to be occupied, the organization was also preparing to renovate The Bowery Mission's landmarked flagship location on the Bowery through a separate grant, was serving record numbers of needy New Yorkers with compassionate care, and was adding to the effectiveness and measurability of its recovery programs.
---
Program accomplishments
Last year we provided:
255,000 meals
54,000 nights of shelter
20,000 articles of clothing
---
Needs