Eastern Mennonite Missions
The information on this page was last updated 3/17/2023. If you see errors or omissions, please email: [email protected]
---
Summary
---
Contact information
Mailing address:
Eastern Mennonite Missions
450 N Prince St
Lancaster, PA 17603-3010
Website: emm.org
Phone: 717-898-2251
Email: [email protected]
---
Organization details
EIN: 236005847
CEO/President: Marvin Lorenzana
Chairman: Akeia Haddox-Rossiter
Board size: 10
Founder: John H. Mellinger
Ruling year: 1984
Tax deductible: Yes
Fiscal year end:
Member of ECFA: Yes
Member of ECFA since: 2021
---
Purpose
Today, the Western church seems to be caught in an irresolvable tension between being appealing while also being a disciplined and discipling community. While we affirm the church's desire to be warm and welcoming, we also desire a church community capable of confronting principalities and powers; a community that serves as an effective witness to God's vision to transform all things.

This vision, and our own experiences with Christ's transforming love, carry us into three tiers of work, as expressed in our mission statement:
---
Mission statement
Our mission statement gives substance to our vision and helps us stay focused when setting goals and making choices about how we function in our context
---
Statement of faith
Our core values flow from our beliefs and shape how we carry out God's mission.

Obedience "My sheep listen to my voice; I know them, and they follow me" (John 10:27).

At the heart of EMM ministry is joyful, relational obedience to the voice of God. Our obedience is rooted in thankfulness to God, who pursues humanity with love and forgiveness.

Well-being "Come to me, all you who are weary and burdened, and I will give you rest" (Matthew 11:28).

We seek the physical, mental, emotional, and spiritual well-being of everyone in the EMM community - workers and those whom they serve around the world, staff, and stakeholders.

Multiplication "But the word of the Lord continued to grow and to be multiplied" (Acts 12:24, NASB).

When every disciple of Jesus goes and makes disciples across the street or around the world, the church experiences multiplication (rather than simple addition), and the kingdom of God expands throughout the earth.
Donor confidence score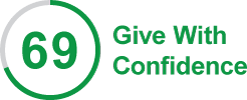 Show donor confidence score details
---
Transparency grade
C
To understand our transparency grade, click here.
---
Financial efficiency ratings
Sector: Community Development
This ministry has not been rated.
---
Financial ratios
Financial ratios for this ministry have not been calculated.
---
Financials
Financials for this ministry have not been collected.
---
Compensation
Compensation data for this ministry has not been collected.
---
Response from ministry
No response has been provided by this ministry.
---
The information below was provided to MinistryWatch by the ministry itself. It was last updated 3/17/2023. To update the information below, please email: [email protected]
---
History
For a timeline, visit: https://www.emm.org/history/
---
Program accomplishments
---
Needs