Creation Moments
The information on this page was last updated 5/3/2022. If you see errors or omissions, please email: [email protected]
---
Summary
Creation Moments is a nonprofit, 501(c)(3) interdenominational Christian outreach program. We serve individuals, students, churches, home schoolers and professionals by offering products and resources that uphold the truth of God in creation. We provide accurate, up-to-date information about new discoveries in God's creation and how they relate to the Bible in three primary areas: Christian Radio Outreach, Products, and Outreach Lectures.
---
Contact information
Mailing address:
Creation Moments
PO Box 839
Foley, MN 56329
Website: www.creationmoments.com
Phone: (800) 422-4253
Email: [email protected]
---
Organization details
EIN: 363541024
CEO/President: Lu Ann Strombeck
Chairman: Mr. Mark Cadwallader
Board size: 5
Founder: Rev. Walter Lang
Ruling year: 1987
Tax deductible: Yes
Fiscal year end: 06/30
Member of ECFA: Yes
Member of ECFA since: 1993
---
Purpose
Every day, evolutionary theory is taught in public schools, confusing the hearts and minds of young people. It dismantles the faith that godly parents have sought to instill in their children. Instead of training up a child in the way he should go, evolution promotes the secular humanist dogma that is all too often effective in convincing young people that God is dead. In the end, evolution seeks to dislodge God from His rightful place as our Creator and Sustainer. Creation Moments' purpose is to combat this situation by giving churches and parents the tools they need to stand strong for biblical truth, especially for the truths found in the book of Genesis. It is Creation Moments' goal to build up the Church and enlighten the world to the wonder and the truth of God's marvelous creation.
---
Mission statement
Creation Moments exists to glorify God by presenting scientific evidence for the literal truth of the Bible.
---
Statement of faith
Creation Moments, Inc. is a non-denominational ministry, which believes that:

God has spoken in Scripture and has acted in creation and human history. We believe that the autographs of the 66 canonical books of the Bible are objectively inspired, infallible and the inerrant Word of God in all of their parts and in all matters of which they speak (history, theology, science, etc.).

The message of the Bible is communicated in the most basic meaning of the text as understood in its historical and grammatical context.

God has acted to create the cosmos ex nihilo in six 24-hour periods in the recent past.

A divine design and purpose exists in nature, and this purpose is to point to and glorify the Creator.

A universal Noachian flood occurred, which destroyed all life on earth except those saved in the Ark (Noah, his family, and the animals).

While man was created sinless, he volitionally sinned. In that Adam, the first man, was acting as the federal head of the human race, everyone since Adam has been born sinful and in need of a Savior.

Jesus Christ was fully man and fully God. His substitutionary atonement in His death provides the only means of salvation to a sinful race.

Scientific research, like every other human activity, should not only seek to 'think God's thoughts after Him,' but serve to glorify the creating Word of God by being applied to life and society in such a manner that these are conformed to God's design for them.
Donor confidence score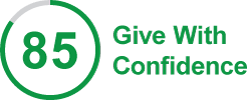 Show donor confidence score details
---
Transparency grade
A
To understand our transparency grade, click here.
---
Financial efficiency ratings
Sector: Educational Media
| | | | |
| --- | --- | --- | --- |
| Category | Rating | Overall rank | Sector rank |
| Overall efficiency rating | | 1007 of 1033 | 50 of 53 |
| Fund acquisition rating | | 1022 of 1035 | 52 of 53 |
| Resource allocation rating | | 1001 of 1035 | 50 of 53 |
| Asset utilization rating | | 712 of 1033 | 26 of 53 |
---
Financial ratios
Funding ratios
Sector median
2020
2019
2018
2017
2016

Return on fundraising efforts Return on fundraising efforts =
Fundraising expense /
Total contributions

8%
32%
37%
40%
26%
19%

Fundraising cost ratio Fundraising cost ratio =
Fundraising expense /
Total revenue

6%
29%
33%
35%
22%
18%

Contributions reliance Contributions reliance =
Total contributions /
Total revenue

94%
89%
90%
88%
87%
93%

Fundraising expense ratio Fundraising expense ratio =
Fundraising expense /
Total expenses

7%
28%
27%
26%
20%
29%

Other revenue reliance Other revenue reliance =
Total other revenue /
Total revenue

6%
11%
10%
12%
13%
7%
Operating ratios
Sector median
2020
2019
2018
2017
2016

Program expense ratio Program expense ratio =
Program services /
Total expenses

80%
60%
54%
53%
40%
56%

Spending ratio Spending ratio =
Total expenses /
Total revenue

95%
102%
123%
132%
114%
62%

Program output ratio Program output ratio =
Program services /
Total revenue

74%
61%
67%
70%
46%
35%

Savings ratio Savings ratio =
Surplus (deficit) /
Total revenue

5%
-2%
-23%
-32%
-14%
38%

Reserve accumulation rate Reserve accumulation rate =
Surplus (deficit) /
Net assets

10%
-2%
-16%
-21%
-7%
36%

General and admin ratio General and admin ratio =
Management and general expense /
Total expenses

11%
12%
19%
21%
40%
15%
Investing ratios
Sector median
2020
2019
2018
2017
2016

Total asset turnover Total asset turnover =
Total expenses /
Total assets

0.82
0.82
0.82
0.82
0.59
0.58

Degree of long-term investment Degree of long-term investment =
Total assets /
Total current assets

1.35
1.47
1.47
1.40
1.35
1.35

Current asset turnover Current asset turnover =
Total expenses /
Total current assets

1.77
1.21
1.20
1.14
0.79
0.77
Liquidity ratios
Sector median
2020
2019
2018
2017
2016

Current ratio Current ratio =
Total current assets /
Total current liabilities

10.59
12.51
9.56
10.54
27.51
18.64

Current liabilities ratio Current liabilities ratio =
Total current liabilities /
Total current assets

0.09
0.08
0.10
0.09
0.04
0.05

Liquid reserve level Liquid reserve level =
(Total current assets -
Total current liabilities) /
(Total expenses / 12)

5.69
9.12
8.97
9.52
14.61
14.67
Solvency ratios
Sector median
2020
2019
2018
2017
2016

Liabilities ratio Liabilities ratio =
Total liabilities /
Total assets

11%
5%
7%
7%
3%
4%

Debt ratio Debt ratio =
Debt /
Total assets

0%
0%
0%
0%
0%
0%

Reserve coverage ratio Reserve coverage ratio =
Net assets /
Total expenses

88%
115%
114%
114%
166%
167%
---
Financials
Balance sheet
Assets
2020
2019
2018
2017
2016
Cash
$184,339
$187,375
$230,987
$282,695
$324,250
Receivables, inventories, prepaids
$31,484
$37,471
$42,336
$39,425
$33,419
Short-term investments
$0
$0
$0
$0
$0
Other current assets
$0
$0
$0
$6,745
$5,169
Total current assets
$215,823
$224,846
$273,323
$328,865
$362,838
Long-term investments
$0
$0
$0
$0
$0
Fixed assets
$101,183
$104,559
$108,878
$114,026
$125,667
Other long-term assets
$0
$0
$0
$0
$0
Total long-term assets
$101,183
$104,559
$108,878
$114,026
$125,667
Total assets
$317,006
$329,405
$382,201
$442,891
$488,505
Liabilities
2020
2019
2018
2017
2016
Payables and accrued expenses
$17,248
$23,521
$25,930
$11,956
$19,461
Other current liabilities
$0
$0
$0
$0
$0
Total current liabilities
$17,248
$23,521
$25,930
$11,956
$19,461
Debt
$0
$0
$0
$0
$0
Due to (from) affiliates
$0
$0
$0
$0
$0
Other long-term liabilities
$0
$0
$0
$0
$0
Total long-term liabilities
$0
$0
$0
$0
$0
Total liabilities
$17,248
$23,521
$25,930
$11,956
$19,461
Net assets
2020
2019
2018
2017
2016
Without donor restrictions
$299,758
$305,883
$356,270
$430,934
$343,377
With donor restrictions
$0
$0
$0
$0
$125,667
Net assets
$299,758
$305,884
$356,271
$430,935
$469,044
Revenues and expenses
Revenue
2020
2019
2018
2017
2016
Total contributions
$228,074
$196,182
$207,564
$199,241
$420,756
Program service revenue
$26,383
$22,064
$28,463
$28,934
$30,435
Membership dues
$0
$0
$0
$0
$0
Investment income
$648
$812
$988
$1,066
$595
Other revenue
$0
$0
$0
$0
$150
Total other revenue
$27,031
$22,876
$29,451
$30,000
$31,180
Total revenue
$255,105
$219,058
$237,015
$229,241
$451,936
Expenses
2020
2019
2018
2017
2016
Program services
$155,673
$146,536
$164,991
$104,880
$157,341
Management and general
$31,672
$51,284
$64,232
$104,367
$42,332
Fundraising
$73,944
$71,626
$82,454
$51,080
$81,286
Total expenses
$261,289
$269,446
$311,677
$260,327
$280,959
Change in net assets
2020
2019
2018
2017
2016
Surplus (deficit)
($6,184)
($50,388)
($74,662)
($31,086)
$170,977
Other changes in net assets
$59
$0
$0
$0
$0
Total change in net assets
($6,125)
($50,388)
($74,662)
($31,086)
$170,977
---
Compensation
Compensation data for this ministry has not been collected.
---
Response from ministry
No response has been provided by this ministry.
---
The information below was provided to MinistryWatch by the ministry itself. It was last updated 5/3/2022. To update the information below, please email: [email protected]
---
History
Five decades ago, a minister near Boise, Idaho noticed a troubling trend...

Founder Pastor Walter Lang found many of the young Christians in his congregation abandoning their Christian roots after spending a year or two in college. "Could this be happening in other churches around the country?" he wondered. It was. Lang decided to do something about it.

Evolutionary theory, with its godless worldview, was poisoning young minds in Lang's church. These young people were taught evolutionary theory as fact, with no mention of Biblical perspectives and creationism theories. Lang searched the country for a publication devoted to promoting creationism theories. There was none. That's when he decided to start Bible-Science Association (now Creation Moments, Inc.)

Lang saw a problem and did what he could to solve it. Today, every Christian creationist organization owes a debt of gratitude to Lang's vision. We know, however, that his work is not complete. Every day, evolutionary theory is taught in public schools, confusing the hearts and minds of young people. It dismantles the faith the godly parents have sought to instill in their children. Instead of "Train up a child in the way he should go." (Proverbs 22:6), evolution promotes the secular humanist dogma that "God is dead; religion is an opiate." In the end, evolution seeks to dislodge God from His rightful place as our Creator and Sustainer.

From Walter Lang's simple vision, Creation Moments now serves Christian youth and adults alike. We are committed to promote, teach and study creationism theories and the truth of divine creation as revealed in the Bible. It is our goal to build up the Church and enlighten the world to the wonder and the truth of God's marvelous creation. We hope you will join us in this important mission. Together we can reach the hearts and minds of a lost and needy world!

Since 1963, Creation Moments, Inc. (formerly the Bible-Science Association) has been communicating the truth of creation. That ministry continues today through Christian radio broadcasts, seminars, publications and a bookstore outreach. In 1986 the two-minute international Christian radio broadcast "Creation Moments" was born. "Creation Moments" is one of the top five US syndicated radio programs of five minutes or less. "Creation Moments" is carried on five major networks: Bible Broadcast, Moody, LifeTalk Network, Family Radio and Bott Radio.
---
Program accomplishments
ECFA Membership - Creation Moments is proud to be a member of the Evangelical Council for Financial Accountability®. By adhering to ECFA's Seven Standards of Responsible Stewardship, Creation Moments is committed to the principles of stewardship derived from the Bible itself. For a description of the Seven Standards, go to http://www.ecfa.org/Content/Standards.

Broadcasting

Creation Moments Radio Broadcast - To meet our ministry's mission during the fiscal year which ended June 30, 2021, CMI produced 270 two-minute educational "Creation Moments" programs that are broadcast worldwide five days each week on over 1,300 radio stations and outlets. This represents 625,000 minutes of broadcasting. The programs are made available to the stations via FTP, MP3 download and CD with over 1,100 CDs distributed to stations. They are also available through satellite with Ambassador Advertising - amb-OS.com/program. There are now 77 stations receiving Creation Moments via satellite plus 5 stations are taking the Spanish program and 68 downloading the program via FTP. There are now approximately 3,500 different programs available for stations to air. Each program presents evidence of God as Creator, and many point out that Darwinism lacks scientific support. Many permissions have been granted to various individuals and churches requesting to reprint the daily Creation Moments broadcast in church bulletins and newsletters.

New Scripts - The scripts are written by Paul Taylor, who is also the on-air voice of Creation Moments. Paul has written more than 1,100 new scripts. Paul is a well-known author and speaker on biblical creation and apologetics.

New Stations - In fiscal year 2020-2021, we added 14 new stations for our regular broadcast in English, 2 stations for Spanish-speaking people, plus the new stations included in the satellite report from Amb-OS.

Monthly Newsletter Mailing - One of the primary tools we use to educate people about the truth of biblical creation is our monthly newsletter, written by the chairman of our board of directors, Mark Cadwallader. The newsletter touches on many topics, all of which relate to our ministry's mission. Since each issue of the newsletter includes an invitation to our constituents to make a donation, it is also the primary way we raise support for Creation Moments. After we mail and email the newsletter to our constituents, we also post it on our website, the Creation Moments app and it is emailed to the OnePlace.com listeners.

Publishing in Print, DVD and CD - We completed the production of 26 new videos in Moments with God's Creation 4 DVD. With the release of this DVD, we now have produced a total of 102 videos based on many of our most popular "Creation Moments" radio broadcasts. All four DVDs are ideal for use in the home and at churches to show the weaknesses of evolution and the strengths of biblical creation. Clips from these DVDs can be viewed on our app.

In addition, our daily radio scripts are compiled periodically into Letting God Create Your Day books - a trade paperback series now consisting of eight best-selling devotional books. The eight-volume set is offered to airing stations requesting promo materials to use during their "Sharathons" as give-aways. Volumes 1- 8 of Letting God Create Your Day are also published as Kindle e-books that are available from Amazon.

Dr. Don on Creation - Donald Clark, Ph. D, a member of our board of directors, is a Tuesday-morning regular on the Broken Road Radio webcast, hosted by Jim Park. This past year Don has been discussing many of the topics in the news - from COVID 19 to Dinosaurs.

Creation Moments on TWR360 - During the 2020-2021 fiscal year, Creation Moments became available on the "Creation Moments Radio" channels (English and Spanish) on the TWR360 website to reach a new audience of people worldwide. Through this partnership, the Spanish version of our program is now on 130 stations in 17 countries. We have increased our coverage through the TWR Spanish Bonaire satellite and are heard by some 82.4 million Spanish-speaking people who live within this broadcast range. We have just increased our broadcast area to include Cuba for the first time ever. In October 2019 we started producing Creation Moments in the Korean language and started airing this program in March 2020, allowing millions of people in North and South Korea to hear the gospel and the truth of biblical creation. Our fundraising efforts resulted in more than $22,000 in donations, which will allow us to broadcast our Korean program for a second full year and beyond. Early in 2021, the Lord opened doors for us to start the translation and production work for 260 transcripts into Mandarin Chinese to broadcast on the same outlets.

Creation Moments on OnePlace

We joined the OnePlace family of webcast ministries in March of 2016, making millions of potential listeners aware of Creation Moments programs and resources. We have added 2,253 new names to our list of potential donors. In the last year, the English version of Creation Moments brought over 46,000 visitors to the website with 87,814 page views. Because of OnePlace.com, we have had over 87,389 downloads, while our podcasts amounted to over 203,269, and MP3 downloads were over 4,918. Nationally, Texas, California, Florida and Illinois brought the largest domestic audiences; internationally, the largest being Canada, followed by the UK, Mexico and Nigeria.

The Spanish version of the Daily Creation Moments has generated over 36,565 page views. Total downloads were over 42,000 and included podcasts and MP3 files. Nationally, Florida, California, Texas, and New York brought the largest audience; internationally, Mexico, Colombia and Peru were the largest audience, and Letting God Create Your Day, Volume 1 was the number-one downloaded offer.

"Welcome to Creation Moments" E-mails - In the 2020-2021 fiscal years, we continued our e-mail program to convert new e-mail subscribers to donors. The program consists of three separate e-mailings spaced out over a period of two months. In this last fiscal year, over 1,250 people received these letters, and these potentials donors are offered a free download of Ian Taylor's book 25 Short Answers to Big Questions about Creation.

Publishing for the Apple and Android Markets

The Creation Moments app, that works on virtually all smartphones and tablets, has been downloaded 18,009 times since it was launched in May of 2015. Push notifications go out to 11,040 people five times a week. From July 2020 to June 2021 our users have accessed individual pages in the app 827,938 times with a cumulative total of 3,028,678. Since our launch, our users have scored our app as 4.7 stars out of 5.

This free app makes it easy for people to take our wide range of biblical creation resources with them wherever they go. The app even includes a selection of Bibles. We selected Subsplash Consulting as our partner in this endeavor because of their extensive experience producing apps for churches and parachurch ministries.

Foreign Language

To serve our growing Hispanic audience, "Creation Moments" is translated and produced into "Momentos de la Creacion" and broadcast over 25 stations, four networks and 14 repeaters. The broadcast reaches the Southern US, Cuba, Mexico, Spain and the Caribbean as well as South and Central America. A total of 240 programs were broadcast this past year, including 150 completely new programs.

Radio stations can download the "Creation Moments" program in English or Spanish via FTP or MP3 from a special area on the Creation Moments website. Plus, we have also added the program to the amb.OS.com site, expanding our accessibility for Spanish stations using that media group. We have seen a dramatic increase in the number of requests for Spanish materials over the past year as well as an increase in Spanish support.

The Espanol section of our website continues to attract Spanish-speaking visitors so they can read the "Momentos de la Creacion" transcripts in Spanish, listen to them or print them out. This area has been expanded to include a daily e-mail to match the English daily e-mail, plus a sign-up area provided for our Spanish audience.

During the 2015-1016 fiscal years, we also started producing Escrituras Revueltas - the Spanish version of our popular Scrambled Scriptures puzzles and 13 new ones were added this past year. We also started producing Church Bulletin Inserts in Spanish that we are making freely available to churches, and 20 inserts have also been created this past year.

In 2017-2018, a popular 32-page booklet 101 Hecnos Cient`ificos Y Presciencia (101 Scientific Facts and Foreknowledge) was translated and printed in Spanish. This has been distributed in Cuba, Peru, Florida, Texas, Kansas, and California, and it has been received with deep appreciation from ministry workers for the availability of this ministry tool.

Meeting the Needs of Christians and Seekers - During the recently completed fiscal year, over 530 individuals have contacted Creation Moments for the first time, requesting information after listening to "Creation Moments" and "Momentos de la Creacion" broadcasts. This represents about a 45% increase in contacts. It also resulted in the sale of thousands of books, DVDs and other materials. Hundreds of program transcripts are now available on the website in printable and audio formats. We sold some 1,800 God's Creation Calendars last year in spite of a world-wide pandemic.

Creationism Materials Distribution - Currently, our online bookstore offers approximately 175 books, DVDs and CDs that provide educational information for everyone from preschool children to adults. We send a colorful monthly flyer to our constituents, highlighting various products about creation and other Bible-science topics.

CreationMoments.com and Online Outreach

Creation Moments website expansion continues to increase awareness of our ministry and add to the number of people we are reaching with our life-changing message. Over 11,446 individuals are now receiving the "Creation Moments" radio broadcast via free subscription in their e-mail each weekday morning. Each one includes a color photo related to the day's script as well as a featured product from our online bookstore. In response to their requests, Creation Moments distributed program transcripts, resource catalogs, publications, ministry brochures, books, DVDs and videos.

Our "Creation Action Moment" is a weekly e-mail that gives each recipient a chance to participate in the mission of Creation Moments, either by taking some sort of action or by making a gift to the ministry.

Our "Church Bulletin Inserts" program continues to grow, giving churches and ministries the opportunity to receive free bulletins to place inside their church bulletins. Each insert features the script of one of our "Creation Moments" broadcasts. More than 1,930 entities (primarily churches) have signed up to be notified whenever we release new inserts, and more are being added each week. Many churches duplicate the inserts and give them out on Sundays. Other churches place stacks of the inserts at strategic places throughout the church building where people will see them and pick them up, and many churches do both. We estimate that at over 100,000 people are receiving them on a weekly basis. By the end of the close of the most recent fiscal year, 655 inserts have been produced, and we continue adding a new one each week. The Church Bulletin Inserts are also becoming increasingly popular among church members who are giving them out to kids in their communities. It is impossible to know how many inserts are being distributed in this manner.

Biblical Creation Education Through Our Website and Social Networking

Our Creation Moments and our Creation Moments Forum groups on the popular Facebook social networking site are continuing to grow in popularity. This gives us the opportunity to interact with our constituents and allows us to reach many new people who were previously unaware of our ministry. Currently, 4,840 people have become members of the Creation Moments group, an increase of more than 400 people since our previous report. Our Creation Moments Forum group now has 2,285 members. Our other Facebook groups - Creationists Speak Out - 436 members, Today's Creation Moment - 447 members, Fans of Creation Moments - 1,506 followers, and Creation Moments Minute - 3,159 followers. In addition to posting in our own groups, we also post regularly in as many as 12 other Facebook groups, depending on the subject matter of our posts. This includes a Young Earth Creation group with over 18,400 members and a Born Again Christians group with over 808,000 members ... so on Facebook alone, we are reaching hundreds of thousands of Christians and creationists.

We are also active on Twitter and other social networking sites to spread the word about biblical creation as well as Creation Moments news and products. In addition, we are posting the latest Creation Moments broadcasts on the Gab social network and on Telegram. We have also posted many of our Creation Moments 2-minute videos on such websites as YouTube and God Tube, where they have been viewed by thousands. The videos have also generated a healthy debate in which we share the reasons for our belief with atheists and evolutionists and respond to their questions.

Outreach to Young People (and the Young at Heart) - Scrambled Scriptures

To enhance our outreach to children, our feature - Scrambled Scriptures - is currently being sent out every Saturday to over 6,500 people and churches. Thousands of others are getting this feature through our social networking activities and our app.

Unlike traditional wordsearch puzzles, our puzzles focus on the Bible, Science and creation. And many puzzles consist of Bible verses to help kids memorize Scripture. Currently we have created 420 puzzles. Some churches are also handing out the puzzles at children's church.

In addition to the puzzle itself, we are also featuring an item in the left column that would be of benefit to young people. Parents are also invited to donate to Creation Moments so we can continue to develop new materials for parents and churches.

GoodSearch, GoodShop and Amazon Smile

We signed up for these programs to give our supporters an effortless way to make donations to Creation Moments whenever they do a search on the Internet and whenever they purchase goods from thousands of online retailers. GoodShop and Amazon Smile also provide donors with substantial discounts on the things they buy, so it's a win-win for them and Creation Moments.

Short Answers to Big Questions - A column called "Short Answers to Big Questions" continues to be very popular with visitors and allows us to rank higher in Internet search engines.
---
Needs