Global Catalytic Ministries
The information on this page was last updated 6/23/2023. If you see errors or omissions, please email: [email protected]
---
Summary
We are a part of the Iranian awakening which is the fastest growing church in the world in one of the most unexpected and radicalized nations on earth. Our rapidly reproducing discipleship movement that owns no property or buildings, has no central leadership, and has been sweeping the Middle East for over 10 years. There are two documentaries about us called "Sheep Among Wolves Vol. 1 & 2". Within these documentaries, you'll hear from our leaders from the underground church and what they have gone through, as they are the sheep among the wolves. We believe the Lord is broadcasting this message on our behalf to prepare the Body of Christ for the coming days ahead.
---
Contact information
Mailing address:
Global Catalytic Ministries
146 N. Middleton Rd, Suite 2007
Nampa, ID 83651
Website: catalyticministries.com
Phone: (208) 570-5735
Email: [email protected]
---
Organization details
EIN: 471258737
CEO/President: Brother X
Chairman: David Marx
Board size: 0
Founder: Mansour Sharif
Ruling year: 2015
Tax deductible: Yes
Fiscal year end:
Member of ECFA: Yes
Member of ECFA since: 2017
---
Purpose
No one can reach Muslims more quickly and effectively than one who has been transformed by Christ, understands the culture, and knows the language. This is our unique ministry that is carried out entirely by nationals and former Muslims-some of whom were even terrorists. All are passionate about bringing the gospel to their fellow countrymen and do so at great personal cost and risk.

Disciple-making is our core strategy. GCM's disciple-making ministry, Sheep Among Wolves, is rooted in sound, evangelical doctrine, and obedience to Christ. The methodology goes beyond bringing people to Jesus and bears lasting fruit. Based on Christ's instructions in Matthew 10, this approach is scriptural, relational, and in-depth.

We disciple people to Christ, then we disciple them to leadership. The result is obedient disciples who are making more disciples, which results in churches that are constantly reproducing more churches. The strategy can be summarized as love God, love your neighbor, and go make disciples who obey the commands of Christ.
---
Mission statement
GCM exists to transform Muslims worldwide through Jesus Christ by means of disciple making, church planting, and leadership development.
---
Statement of faith
We believe the Scriptures, both the Old and New Testaments, are inspired by God and are the revelation of God to man, the infallible, authoritative rule of faith and conduct. (2 Timothy 3:15-17, 1 Peter 1:21)

We believe that there is one God, eternally existent who has revealed Himself as embodying the principles of relationship and association as Father, Son and Holy Spirit. (Deuteronomy 6:4, Luke 3:22)

We believe in the deity of our Lord Jesus Christ, in His virgin birth, in His sinless life, in His miracles, in His atoning death through His shed blood, in His bodily resurrection, in His ascension to the right hand of the Father where He intercedes for us, in His present rule as Head of the Church, and in His personal return in power and glory. (Matthew 1:23, Luke 1:31)

We believe in the creation of mankind in God's image, and the fall of man, resulting in universal guilt and total depravity; and the necessity, therefore, of redemption and restoration; that all men and women are lost spiritually and face the judgment of God, that Jesus Christ is the only way of salvation, and that repentance of sin and faith in Jesus Christ is necessary for regeneration by the Holy Spirit. (Genesis 1:26-27, Genesis 2:17)

We believe salvation is received through repentance toward God and faith toward the Lord Jesus Christ. By the washing of regeneration and renewing of the Holy Spirit, being justified by grace through faith, man becomes an heir of God, according to the hope of eternal life. (Luke 24:47, John 3:3)

We believe in the resurrection of both the saved and the lost; the saved unto the resurrection of eternal life in the presence of our Lord, and the lost unto the resurrection of damnation and eternal punishment. (Matthew 25:46, Mark 9:43-48)

We believe in the spiritual unity of believers in our Lord Jesus Christ and that all true believers are members of His body, the Church, which has the duty to preach the Gospel to every person. (Ephesians 1:22-23, Ephesians 2:22)

We believe that we must dedicate ourselves to prayer, to the service of our Lord, to His authority over our lives, and to the ministry of teaching, preaching, the prophetic, the apostolic, and evangelism. (Ephesians 4:11-13)

We believe in upholding the ordinances of the church of water baptism and holy communion.

The ordinance of baptism by immersion is commanded by the Scriptures. All who repent and believe in Christ as Savior and Lord are to be baptized. Thus, they declare to the world that they have died with Christ and that they also have been raised with Him to walk in newness of life. (Matthew 28:19, Mark 16:16, Acts 10:47,48, Romans 6:4)

The Lord's Supper, consisting of the elements-bread and the fruit of the vine-, is the symbol expressing our sharing the divine nature of our Lord Jesus Christ (2 Peter 1:4), a memorial of His suffering and death (1 Corinthians 11:26), and a prophecy of His second coming (1 Corinthians 11:26), and is enjoined on all believers "till He comes!"
Donor confidence score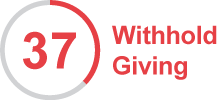 Show donor confidence score details
---
Transparency grade
C
To understand our transparency grade, click here.
---
Financial efficiency ratings
Sector: Foreign Missions
This ministry has not been rated.
---
Financial ratios
Financial ratios for this ministry have not been calculated.
---
Financials
Financials for this ministry have not been collected.
---
Compensation
Compensation data for this ministry has not been collected.
---
Response from ministry
No response has been provided by this ministry.
---
The information below was provided to MinistryWatch by the ministry itself. It was last updated 6/23/2023. To update the information below, please email: [email protected]
---
History
---
Program accomplishments
14 nations
42 frontline workers
1400+ house churches
909 trained in DMM
648 leaders
15,742 ministry supporters
0 arrests
0 tortured
0 killed
---
Needs