King University
The information on this page was last updated 3/16/2023. If you see errors or omissions, please email: [email protected]
---
Summary
King University is a Presbyterian, doctoral-level comprehensive university. King offers more than 80 majors, minors, pre-professional degrees and concentrations in fields such as business, nursing, law, medical and health sciences, pharmacy, education, and humanities. Graduate programs are offered in business administration, education, and nursing. A number of off-campus learning opportunities and travel destinations are also available.
---
Contact information
Mailing address:
King University
1350 King College Rd
Bristol, TN 37620
Website: king.edu
Phone: 800-362-0014
Email: [email protected]
---
Organization details
EIN: 581363100
CEO/President: Alexander W. Whitaker
Chairman: Robert H. Scott Maclellan
Board size: 26
Founder: Holston Presbytery leaders
Ruling year: 1979
Tax deductible: Yes
Fiscal year end: 05/30
Member of ECFA: No
Member of ECFA since:
---
Purpose
We aim to be the preeminent small to medium-sized Christian university in the Upper South, with a reputation earned there and beyond as a school serious about its Christian commitment, focused on student success, dedicated to academic excellence, and successful in producing graduates who excel wherever they live, work, and serve.
---
Mission statement
We prepare students in our Christian academic community to excel as thoughtful, resourceful, and responsible citizens with a passion for serving God, the Church, and the world. We accomplish this through excellent teaching, high expectations, worthwhile example, and fidelity to our Presbyterian heritage. Our mission is the same for all campuses and sites; for online learning; and for all programs, curricular and extracurricular, graduate and undergraduate.

King is committed to having its mission statement guide all that we do in our daily operations and decisions. In the spring 2018 semester, we held a special convocation to discuss what the mission statement means and how it is fulfilled on a day-to-day basis. We also published a booklet titled "Who We Are and What We Do" that parses the words of the mission statement and provides examples of how it is lived out in practical terms.
---
Statement of faith
The University is founded on the core belief that because God is Father, Son and Holy Spirit, the one who is the creator, redeemer and sustainer of all life, all aspects of our knowledge are wonderfully interrelated. Thus, by excelling in our study and vocations, we respond to God's call to utilize talents and abilities to their full potential. By seeking to transform our culture in Christ, we respond as stewards of God's creation, agents of peace, lovers of truth, creators of beauty, and servants of reconciliation.
Donor confidence score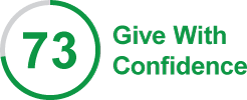 Show donor confidence score details
---
Transparency grade
D
To understand our transparency grade, click here.
---
Financial efficiency ratings
Sector: Colleges/Universities
| | | | |
| --- | --- | --- | --- |
| Category | Rating | Overall rank | Sector rank |
| Overall efficiency rating | | 744 of 1077 | 86 of 130 |
| Fund acquisition rating | | 540 of 1078 | 61 of 130 |
| Resource allocation rating | | 1001 of 1078 | 119 of 130 |
| Asset utilization rating | | 442 of 1077 | 45 of 130 |
---
Financial ratios
Funding ratios
Sector median
2020
2019
2018
2017
2016

Return on fundraising efforts Return on fundraising efforts =
Fundraising expense /
Total contributions

11%
11%
31%
25%
17%
52%

Fundraising cost ratio Fundraising cost ratio =
Fundraising expense /
Total revenue

2%
1%
2%
1%
1%
1%

Contributions reliance Contributions reliance =
Total contributions /
Total revenue

18%
13%
8%
3%
5%
2%

Fundraising expense ratio Fundraising expense ratio =
Fundraising expense /
Total expenses

2%
2%
2%
1%
1%
1%

Other revenue reliance Other revenue reliance =
Total other revenue /
Total revenue

82%
87%
92%
97%
95%
98%
Operating ratios
Sector median
2020
2019
2018
2017
2016

Program expense ratio Program expense ratio =
Program services /
Total expenses

84%
69%
71%
76%
76%
76%

Spending ratio Spending ratio =
Total expenses /
Total revenue

95%
95%
102%
107%
94%
103%

Program output ratio Program output ratio =
Program services /
Total revenue

79%
66%
72%
81%
72%
78%

Savings ratio Savings ratio =
Surplus (deficit) /
Total revenue

5%
5%
-2%
-7%
6%
-3%

Reserve accumulation rate Reserve accumulation rate =
Surplus (deficit) /
Net assets

4%
4%
-2%
-5%
5%
-3%

General and admin ratio General and admin ratio =
Management and general expense /
Total expenses

13%
29%
27%
23%
23%
23%
Investing ratios
Sector median
2020
2019
2018
2017
2016

Total asset turnover Total asset turnover =
Total expenses /
Total assets

0.50
0.60
0.61
0.65
0.70
0.71

Degree of long-term investment Degree of long-term investment =
Total assets /
Total current assets

2.66
1.56
1.62
1.66
1.70
1.76

Current asset turnover Current asset turnover =
Total expenses /
Total current assets

1.54
0.93
0.99
1.09
1.19
1.25
Liquidity ratios
Sector median
2020
2019
2018
2017
2016

Current ratio Current ratio =
Total current assets /
Total current liabilities

7.30
9.06
7.86
7.41
6.89
5.35

Current liabilities ratio Current liabilities ratio =
Total current liabilities /
Total current assets

0.14
0.11
0.13
0.13
0.15
0.19

Liquid reserve level Liquid reserve level =
(Total current assets -
Total current liabilities) /
(Total expenses / 12)

6.41
11.43
10.59
9.56
8.64
7.81
Solvency ratios
Sector median
2020
2019
2018
2017
2016

Liabilities ratio Liabilities ratio =
Total liabilities /
Total assets

25%
22%
22%
22%
21%
23%

Debt ratio Debt ratio =
Debt /
Total assets

15%
12%
11%
10%
9%
9%

Reserve coverage ratio Reserve coverage ratio =
Net assets /
Total expenses

143%
131%
128%
120%
113%
108%
---
Financials
Balance sheet
Assets
2020
2019
2018
2017
2016
Cash
$6,016,188
$2,450,265
$1,775,910
$1,574,035
$2,699,688
Receivables, inventories, prepaids
$2,557,983
$2,306,778
$2,515,690
$2,690,317
$2,549,828
Short-term investments
$37,103,446
$37,396,157
$36,537,745
$36,554,793
$34,333,096
Other current assets
$0
$0
$0
$0
$0
Total current assets
$45,677,617
$42,153,200
$40,829,345
$40,819,145
$39,582,612
Long-term investments
$6,490,116
$6,452,440
$6,517,819
$6,931,082
$7,745,324
Fixed assets
$18,167,254
$18,620,840
$19,507,136
$20,436,903
$21,404,087
Other long-term assets
$795,130
$872,571
$1,029,766
$1,049,423
$1,108,847
Total long-term assets
$25,452,500
$25,945,851
$27,054,721
$28,417,408
$30,258,258
Total assets
$71,130,117
$68,099,051
$67,884,066
$69,236,553
$69,840,870
Liabilities
2020
2019
2018
2017
2016
Payables and accrued expenses
$1,716,152
$1,794,048
$2,247,539
$2,266,101
$2,250,450
Other current liabilities
$3,323,671
$3,566,073
$3,259,109
$3,659,039
$5,141,320
Total current liabilities
$5,039,823
$5,360,121
$5,506,648
$5,925,140
$7,391,770
Debt
$8,451,504
$7,621,659
$7,011,844
$6,257,882
$6,280,922
Due to (from) affiliates
$0
$0
$0
$0
$0
Other long-term liabilities
$1,825,742
$1,953,175
$2,151,024
$2,285,570
$2,613,933
Total long-term liabilities
$10,277,246
$9,574,834
$9,162,868
$8,543,452
$8,894,855
Total liabilities
$15,317,069
$14,934,955
$14,669,516
$14,468,592
$16,286,625
Net assets
2020
2019
2018
2017
2016
Without donor restrictions
$15,781,616
$14,700,863
$16,050,343
$18,736,574
$18,242,507
With donor restrictions
$40,031,432
$38,463,233
$37,164,207
$36,031,387
$35,311,738
Net assets
$55,813,048
$53,164,096
$53,214,550
$54,767,961
$53,554,245
Revenues and expenses
Revenue
2020
2019
2018
2017
2016
Total contributions
$5,783,645
$3,168,208
$1,386,621
$2,327,791
$777,184
Program service revenue
$37,219,092
$36,210,004
$38,067,990
$43,790,058
$45,144,160
Membership dues
$0
$0
$0
$0
$0
Investment income
$1,755,451
$1,471,521
$2,120,803
$5,170,293
$2,162,409
Other revenue
$0
$0
$0
$0
$0
Total other revenue
$38,974,543
$37,681,525
$40,188,793
$48,960,351
$47,306,569
Total revenue
$44,758,188
$40,849,733
$41,575,414
$51,288,142
$48,083,753
Expenses
2020
2019
2018
2017
2016
Program services
$29,546,220
$29,535,276
$33,740,195
$36,937,941
$37,565,141
Management and general
$12,477,482
$11,147,653
$10,253,107
$11,121,798
$11,485,247
Fundraising
$655,155
$996,867
$352,918
$391,333
$401,814
Total expenses
$42,678,857
$41,679,796
$44,346,220
$48,451,072
$49,452,202
Change in net assets
2020
2019
2018
2017
2016
Surplus (deficit)
$2,079,331
($830,063)
($2,770,806)
$2,837,070
($1,368,449)
Other changes in net assets
$0
$0
$0
$0
$0
Total change in net assets
$2,079,331
($830,063)
($2,770,806)
$2,837,070
($1,368,449)
---
Compensation
| | | |
| --- | --- | --- |
| Name | Title | Compensation |
| Mr Alexander W Whitaker IV | President | $356,139 |
| Mr James P Donahue | Treasurer/Chief Financial | $171,223 |
| Mr Brent Davison | VP For Development | $156,837 |
| Dr Matt Roberts | VP For Academic Affairs | $113,108 |
| Dr Robert A Littleton | VP For Student Affairs | $86,594 |
Compensation data as of: 5/31/2020
---
Response from ministry
No response has been provided by this ministry.
---
The information below was provided to MinistryWatch by the ministry itself. It was last updated 3/16/2023. To update the information below, please email: [email protected]
---
History
King College began when the leaders of the Holston Presbytery in Northeast Tennessee set forth its vision in a declaration of purpose on April 9, 1866: "The presbytery is deeply impressed not only with the importance of establishing a classical school, but one of such high order as will greatly elevate the standard of classical and scientific instruction in East Tennessee, and which with such instruction, will combine that strict discipline and the thorough religious training that will fully develop the moral as well as the intellectual man."

The Reverend James King, a prominent landowner and Senior minister of the denomination in Northeastern Tennessee, came forward with a gift of land for a campus near the town of Bristol. The location, a rounded hill crowned with towering trees, was personally meaningful to King, for it was the site where he had made his own Christian commitment and to which he had been accustomed to retire with his Bible for personal meditation. King called it his "glory grove," and, in appreciation of the gift, Holston Presbytery voted to name the new institution King College in his honor.

A campaign among local citizens provided funds for the erection of a large three-story building with a central Victorian tower, while the Reverend George A. Caldwell, minister of the Bristol Presbyterian Church, embarked on a campaign to develop a permanent endowment, soliciting donations from within Northeastern Tennessee and locations as far away as New York City. The Reverend James Doak Tadlock, a graduate of Princeton Seminary and a member of Holston Presbytery, was chosen as the founding president of the College, which matriculated its first students and began classes in August of 1867.

A man of faith and dedication, Tadlock had well-defined views as to the proper character of a collegiate education, believing it should conform to the strict classical model of the liberal arts set forth by Yale College. Course offerings were limited to the classical languages, mathematics, and science, but the instruction was thorough and demanding. Tadlock maintained close personal relationships with his students and inspired his young men to accept personal commitments to lives of service to their God and fellow men, and he encouraged the formation of student-led literary societies in which the students honed their skills in public speaking and debate.

During the 18 years of his presidency, Tadlock produced only 63 graduates, but they went forth to make their mark in the world. From this number would come 40 ministers, seven of whom were missionaries in foreign lands. Ten became lawyers; another 10 were college professors, five of whom became college presidents; three were editors of magazines and newspapers; and others went into business. More than 70 percent of Tadlock's alumni had graduate or professional training, and half were recipients of honorary degrees. Eight had national careers of such prominence they were chosen for inclusion in Who's Who in America. As one graduate would write later of his beloved president, "We were proud of him. The sacrifices we knew he was making to remain with the little college endeared him to us, and the fact that we had such a president made every man of us feel that King College out ranked any college in the land."

Tadlock's successors in the presidency broadened the curriculum and increased the range of course offerings but continued his emphasis upon developing young men who could provide both intellectual and moral leadership to their communities. By the early twentieth century, however, King College was facing new challenges and opportunities. The growth of the town of Bristol had transformed the rural environment of the campus into an urban setting of city blocks filled with houses and commercial buildings, and the advent of regional accrediting associations mandated uniform standards of quality. It was essential, then, that King should become an accredited institution.

The Reverend Tilden Scherer, who assumed the presidency in 1912, made these concerns the major goals of his administration. Fortunately, he earned the financial support of a number of business leaders in the city of Bristol, including Edward Washington King, who would be a steady and reliable benefactor for half a century.

Throughout the Southern mountains there were other Presbyterian leaders who were convinced the time had come for the church to assume a greater responsibility for humanitarian concerns in the Southern highlands. The result was the formation in 1915 of the Synod of Appalachia, encompassing Presbyterian congregations throughout Eastern Tennessee, Southwestern Virginia, Western North Carolina, and neighboring portions of West Virginia and Kentucky.

King was officially designated as the synod's college and thereby gained the larger constituency necessary to its future development. In the following year, the Reverend Isaac S. Anderson, a member of the class of 1875 and a grandson of James King, offered a wooded tract of 60 acres east of Bristol as a new campus site. The College immediately launched a campaign to raise funds for buildings and, with the completion of Bristol Hall in 1917, moved to its new location in the fall term. Over the course of the next decade, six major buildings would be erected on the new campus.

King College also achieved national prominence for its prowess in athletics during this period. The College football team seemed unbeatable in the early years following World War I, and the highlight of its triumphs came in October 1922 when the King College team defeated Lenior College of Hickory, N.C., by 206 to 0, a record score that still stands in the annals of collegiate football as one of the highest ever recorded on the gridiron. The newspaper reporter covering the event wrote that the King team ran the ball with the ferocity of a "tornado" and thus was born the name that has since been applied to all sports teams of the school: the King College Tornado.

In 1931, Stonewall Jackson College, a Presbyterian institution for women in Abingdon, Virginia, closed its doors, and King responded by becoming coeducational.

When the Reverend Thomas P. Johnston assumed the presidency in 1935, he made financial stability his foremost goal. Gathering dedicated ecclesiastical and lay leaders from throughout the Synod of Appalachia, he launched a comprehensive fund-raising drive that enlisted the united support of Presbyterians in the Southern mountains. Their efforts were remarkably successful, permitting the College to face the future with confidence.

The post-World War II years were a time of remarkable growth and achievement for King College. In March 1943, the Reverend Robert Todd Lapsley Liston assumed the presidency and began a twenty-five year tenure. Liston was determined that King must achieve the fullest measure of academic distinction that had been the goal of its founders, and he turned to the task with vigor and bold determination.

Given strong support by a Board of Trustees whose leaders during this period included Dr. Huston St. Clair, James C. White, and Frank W. DeFriece, Jr., Liston made academic quality his first priority. New money was poured into faculty salaries, the library, and laboratory equipment, while Liston personally recruited bright high school graduates to fill the classrooms. During this same period, major campaigns were launched to build a larger permanent endowment fund. By 1948, King had won accreditation from the Southern Association of Colleges and Schools, and by 1960, King was recognized in leading graduate and professional schools for the high academic quality of its alumni.

Initially Liston had concentrated his energies upon academic achievements, but he soon recognized the need for physical improvements to the College. Under his leadership, a 1960s building program transformed the appearance of the hilltop campus. The new campus plan included a grassy central lawn known as the "Oval," which was completely surrounded by chief academic buildings. New roadways and college entrances were constructed, and Liston added five major buildings: the E. W. King Library/Administration Building, dormitories for men and women, an astronomical observatory, and the F. B. Kline Gymnasium.

The programs Liston implemented were continued and expanded in the 1970s during the presidencies of Powell Alexander Fraser and the Reverend Roy Kinneer Patterson, Jr. The James C. White Building offered state-of-the-art facilities for scientific instruction and laboratory work in the natural sciences, and a new home for the College president was constructed. Athletic fields were upgraded, and renovations to existing facilities provided larger and better-equipped classrooms. The academic curriculum was broadened to meet changing curricular needs, with special emphasis given to pre-professional programs such as teacher preparation. In 1979, the College transitioned to new ownership. A new Board of Trustees assumed control of the institution, and King became an independent school. The Reverend Donald Rutherford Mitchell, who served as president from 1979 to 1989, led the faculty and trustees in a careful refinement of the College's statement of purpose, strengthening its emphasis upon the mission of King to bring together faith, learning, and living in an educational setting of academic challenge and Christian nurture.

Enrollment doubled during the early years of Mitchell's administration, and greater emphasis was placed upon the recruitment of international students. The increased enrollment necessitated construction of Maclellan Hall to serve as a new dining hall-student union, an additional residence hall for women, and remodeling of the College chapel to increase its seating capacity. Mitchell's programs were given solid support by the Trustees under the leadership of Board Chairman Hugh O. Maclellan, Jr., whose unwavering dedication provided financial stability during this period of growth.

The presidencies of Charles E. Cauthen, Jr., and Richard J. Stanislaw from 1989 to 1997 built upon former achievements. Major campus renovations continued, with upgrades to heating and air conditioning systems and improvements to maintenance facilities. President Cauthen was instrumental in establishing a campus-wide computer network, known as KingNet, which linked computing facilities throughout the campus to central academic and administrative systems.

Also at this time the Holston Associated Libraries was formed, providing King with an electronic cataloging system that linked its library to those of other regional colleges, thus greatly expanding access to reference and research materials. During the administration of President Stanislaw, a $12.5 million financial campaign came to a successful conclusion in 1998 with $15 million being raised.

The Reverend Gregory Doty Jordan was named president of King College in 1997 and immediately picked up where his predecessors left off. He and the Trustees undertook a year-long study that resulted in the creation of a comprehensive strategic plan to guide King's future, then drafted an explicit Statement of Purpose to provide clarity to the campus community.

Dr. Jordan then turned his attention to the College's academic offerings, ultimately redesigning King's core curriculum and creating a new academic calendar. A nursing program was created to fulfill the critical need for nurses in the years ahead and, in 2001, the Peeke School of Christian Mission was created to honor the life's work of M. Catherine Peeke, King graduate and missionary. That same year, King opened its Center for Graduate and Professional Studies, which offered a total of four adult-oriented degree programs: Master of Business Administration, RN to Bachelor of Science in Nursing, Bachelor of Business Administration, and Post- Baccalaureate Teacher Licensure.

Major changes also were made to the appearance of the campus. The adjoining golf course, which had been leased for years, was appropriated for College use and redesigned for new athletic fields, a new gate and entrance to the College, and for the construction of additional buildings in the coming years. In December 2002, the College dedicated a new athletic Student Center Complex that seats 1,200 and features an indoor track, a weight training room, exercise space, a hospitality room, and faculty offices for athlete personnel.

By 2004, King had completed an ambitious $50 million campaign, well beyond any goal in the institution's history, raising an impressive $51. 6 million. The incredible success of that campaign positioned the College to play a significant role of service and leadership in the 21st century and to fulfill the promise and vision established by its founders more than 130 years before.

To challenge the minds of the region's residents and address issue of faith and culture, King in 2007 established the Buechner Institute in honor of writer and theologian Frederick Buechner. Through this thought-provoking lecture series, the Buechner Institute - later renamed the King Institute for Faith and Culture - began inviting a number of learned individuals to the region to speak both on campus and at various public venues.

In July 2010, King College was formally accepted as an NCAA Division II member, a process the Board of Trustees and other members of the King community pursued for more than three years. Membership in the NCAA is reserved for institutions that are dedicated to the well-being and lifelong success of college athletes. King College also became the thirteenth institution - and the only member located outside of North Carolina or South Carolina - to be admitted into Conference Carolinas.

The athletic department soon moved 19 intercollegiate sports to the NCAA Division II ranks. These included men's baseball and wrestling, women's softball, and basketball, cross country, golf, soccer, swimming, tennis, track and field, and volleyball for both men and women. King also offers athletic opportunities in cycling, women's wrestling, cheerleading and dancing, which are not sponsored by the NCAA.

During his tenure as president, Dr. Jordan also focused heavily on academic offerings, transforming King to a master's level, comprehensive college that offers a large range of degree programs in arts and sciences, business, nursing, and education. As a result of his dedication to the College's mission of improving economic and workforce development in the region, King created eight Graduate and Professional Studies programs in 11 locations from Richlands, Virginia to Knoxville, Tennessee.

The School of Nursing officially also began offering the Family Nurse Practitioner concentration as part of its Master of Science in Nursing degree. And, recognizing the need for educational opportunities beyond the traditional brick-and-mortar options, King made both the Bachelor of Business Administration (BBA) and Bachelor of Information Technology (BTech) available to students online. The following spring, the Bachelor of Science in Nursing for Registered Nurses (RN-BSN) and Master of Business Administration (MBA) degrees were added as online options.

Enrollment continued to grow throughout this period. Fall Semester 2011 marked King's twelfth consecutive year of record-breaking increases, with 2,127 students registered.

By 2013, King had seven schools including the College of Arts and Sciences and Schools of Business and Economics, Education, Nursing, Applied Science and Technology, Behavioral and Health Sciences, and the Peeke School of Christian Mission. The Learning Commons in Nicewonder Hall also was established, giving King a 21st Century digital campus to provide online classes to students around the world.

On June 1, 2013, King College became officially known as King University, achieving university status as defined by the Carnegie Classification of Institutions of Higher Education and accredited as a Level Five regional university by the Southern Association of Colleges and Schools Commission on Colleges (SACSCOC). King also continued to earn top rankings by such organizations as U.S. News & World Report and Princeton Review, and was named a Military Friendly School by G.I. Jobs.

Dr. Jordan resigned in February 2014 after serving King for 34 years, 16 of them as president. Dr. Richard Ray, vice chair of King's Board of Trustees, was named interim president.

With Dr. Ray at the helm, the King Library was renovated to include a new computer center, a food station, and enhanced handicap accessibility. Parking lots and streets were paved and extensive repairs were made to the iconic brick walkway known as "The Oval."

In March of 2016, King University named ALEXANDER W. WHITAKER IV as its 23rd President. President Whitaker assumed his new duties in August 2016 and, at the university's opening Convocation, told faculty and staff that his top priorities including strengthening academic programs, improving Bristol's campus, and reemphasizing King's Christian character.
---
Program accomplishments
---
Needs