Narramore Christian Foundation, Inc.
The information on this page was last updated 1/5/2023. If you see errors or omissions, please email: [email protected]
---
Summary
The Narramore Christian Foundation (NCF) provides Christ-centered training and counseling for pastors, organization leaders, missionaries and their children, member care providers, and other Kingdom workers. NCF is a global ministry devoted to the prevention and solving of personal and interpersonal issues that are experienced within this often underserved population. Our seminars, literature, and ministry outreaches are provided using sound Biblical principals integrated with evidence-based psychology.
---
Contact information
Mailing address:
Narramore Christian Foundation, Inc.
PO Box 661900
Arcadia, CA 91066-1900
Website: www.ncfliving.org
Phone: 626-821-8400
Email: [email protected]
---
Organization details
EIN: 952018760
CEO/President: Tim Hibma
Chairman: Todd Shaw
Board size: 13
Founder: Dr. Clyde & Mrs. Ruth Narramore
Ruling year: 1961
Tax deductible: Yes
Fiscal year end: 06/30
Member of ECFA: Yes
Member of ECFA since: 1980
---
Purpose
We support needed Christian mental health care to missionaries and those living in areas where little or no psychological resources exist.

We provide vital reentry seminars for MKs/TCKs to assist their transition to North American life after their years living abroad.

We provide literature and education on topics in Christian counseling using a strong integration of psychology and Scripture.
---
Mission statement
The mission of the Narramore Christian Foundation is to meet the psychological needs of underserved populations by providing communications, services, grants, and seminars based on the integration of psychology and Scripture.
---
Statement of faith
We believe the Bible to be the inspired, the only infallible, authoritative Word of God.

We believe that there is one God, eternally existent in three persons: Father, Son and Holy Spirit.

We believe in the deity and humanity of Christ, in His virgin birth, in His sinless life, in His miracles, in His vicarious and atoning death through His shed blood, in His bodily resurrection, in His ascension to the right hand of the Father, in His present rule as Head of the Church and in His personal return in power and glory.

We believe regeneration by the Holy Spirit is absolutely essential for the salvation of lost and sinful people.

We believe in the present ministry of the Holy Spirit, by whose indwelling the Christian is enabled to live a godly life.

We believe in the reality of evil and of Satan, a created being who opposes God, God's people, and God's work, whose great power is constrained by God and who will be punished at Christ's second coming.

We believe in the resurrection of both the saved and the lost, they that are saved unto the resurrection of life and they that are lost unto the barrenness of damnation.

We believe in the spiritual unity of believers in our Lord Jesus Christ, with equality across racial, gender, and class differences.
Donor confidence score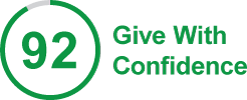 Show donor confidence score details
---
Transparency grade
A
To understand our transparency grade, click here.
---
Financial efficiency ratings
Sector: Christian Growth
| | | | |
| --- | --- | --- | --- |
| Category | Rating | Overall rank | Sector rank |
| Overall efficiency rating | | 1004 of 1022 | 69 of 70 |
| Fund acquisition rating | | 931 of 1025 | 59 of 70 |
| Resource allocation rating | | 978 of 1025 | 68 of 70 |
| Asset utilization rating | | 869 of 1022 | 58 of 70 |
---
Financial ratios
Funding ratios
Sector median
2021
2019
2018
2017
2016

Return on fundraising efforts Return on fundraising efforts =
Fundraising expense /
Total contributions

6%
27%
35%
34%
33%
21%

Fundraising cost ratio Fundraising cost ratio =
Fundraising expense /
Total revenue

4%
8%
12%
2%
16%
14%

Contributions reliance Contributions reliance =
Total contributions /
Total revenue

85%
30%
34%
7%
47%
65%

Fundraising expense ratio Fundraising expense ratio =
Fundraising expense /
Total expenses

5%
11%
9%
7%
10%
10%

Other revenue reliance Other revenue reliance =
Total other revenue /
Total revenue

15%
70%
66%
93%
53%
35%
Operating ratios
Sector median
2021
2019
2018
2017
2016

Program expense ratio Program expense ratio =
Program services /
Total expenses

82%
57%
68%
68%
66%
65%

Spending ratio Spending ratio =
Total expenses /
Total revenue

95%
74%
136%
35%
163%
139%

Program output ratio Program output ratio =
Program services /
Total revenue

74%
42%
92%
24%
108%
91%

Savings ratio Savings ratio =
Surplus (deficit) /
Total revenue

5%
26%
-36%
65%
-63%
-39%

Reserve accumulation rate Reserve accumulation rate =
Surplus (deficit) /
Net assets

8%
2%
-2%
20%
-4%
-3%

General and admin ratio General and admin ratio =
Management and general expense /
Total expenses

13%
32%
24%
26%
24%
25%
Investing ratios
Sector median
2021
2019
2018
2017
2016

Total asset turnover Total asset turnover =
Total expenses /
Total assets

0.88
0.05
0.08
0.11
0.09
0.08

Degree of long-term investment Degree of long-term investment =
Total assets /
Total current assets

1.41
1.21
1.25
1.27
1.53
1.52

Current asset turnover Current asset turnover =
Total expenses /
Total current assets

1.50
0.06
0.10
0.14
0.14
0.13
Liquidity ratios
Sector median
2021
2019
2018
2017
2016

Current ratio Current ratio =
Total current assets /
Total current liabilities

14.19
137.15
38.26
45.65
105.87
76.81

Current liabilities ratio Current liabilities ratio =
Total current liabilities /
Total current assets

0.06
0.01
0.03
0.02
0.01
0.01

Liquid reserve level Liquid reserve level =
(Total current assets -
Total current liabilities) /
(Total expenses / 12)

7.33
213.16
112.14
86.58
84.88
92.11
Solvency ratios
Sector median
2021
2019
2018
2017
2016

Liabilities ratio Liabilities ratio =
Total liabilities /
Total assets

10%
2%
4%
3%
11%
14%

Debt ratio Debt ratio =
Debt /
Total assets

0%
0%
0%
0%
8%
11%

Reserve coverage ratio Reserve coverage ratio =
Net assets /
Total expenses

91%
2114%
1157%
902%
974%
1016%
---
Financials
Balance sheet
Assets
2021
2019
2018
2017
2016
Cash
$248,972
$122,858
$48,061
$150,024
$215,917
Receivables, inventories, prepaids
$78,446
$86,355
$107,592
$99,282
$73,303
Short-term investments
$13,374,888
$11,435,374
$11,363,347
$7,884,790
$8,254,099
Other current assets
$0
$0
$0
$0
$0
Total current assets
$13,702,306
$11,644,587
$11,519,000
$8,134,096
$8,543,319
Long-term investments
$115,732
$179,502
$239,112
$317,818
$407,816
Fixed assets
$2,598,971
$2,652,790
$2,689,577
$3,955,277
$3,926,518
Other long-term assets
$121,384
$108,079
$142,316
$59,143
$78,249
Total long-term assets
$2,836,087
$2,940,371
$3,071,005
$4,332,238
$4,412,583
Total assets
$16,538,393
$14,584,958
$14,590,005
$12,466,334
$12,955,902
Liabilities
2021
2019
2018
2017
2016
Payables and accrued expenses
$75,064
$251,113
$193,726
$29,294
$78,364
Other current liabilities
$24,840
$53,255
$58,617
$47,537
$32,859
Total current liabilities
$99,904
$304,368
$252,343
$76,831
$111,223
Debt
$2,500
$2,500
$4,043
$1,008,581
$1,370,900
Due to (from) affiliates
$0
$0
$0
$0
$0
Other long-term liabilities
$250,895
$236,125
$251,512
$287,814
$308,253
Total long-term liabilities
$253,395
$238,625
$255,555
$1,296,395
$1,679,153
Total liabilities
$353,299
$542,993
$507,898
$1,373,226
$1,790,376
Net assets
2021
2019
2018
2017
2016
Without donor restrictions
$15,459,504
$13,272,026
$13,287,466
$10,254,225
$10,326,166
With donor restrictions
$725,590
$769,939
$794,641
$838,883
$839,360
Net assets
$16,185,094
$14,041,965
$14,082,107
$11,093,108
$11,165,526
Revenues and expenses
Revenue
2021
2019
2018
2017
2016
Total contributions
$309,360
$304,419
$303,563
$329,079
$511,175
Program service revenue
$0
$0
$0
$0
$0
Membership dues
$0
$0
$0
$0
$0
Investment income
$207,618
$210,978
$3,776,610
$102,168
$128,876
Other revenue
$514,138
$379,553
$334,275
$266,811
$149,350
Total other revenue
$721,756
$590,531
$4,110,885
$368,979
$278,226
Total revenue
$1,031,116
$894,950
$4,414,448
$698,058
$789,401
Expenses
2021
2019
2018
2017
2016
Program services
$436,376
$819,337
$1,059,096
$756,848
$715,927
Management and general
$245,142
$287,128
$398,570
$273,667
$273,528
Fundraising
$84,228
$107,017
$103,890
$108,554
$109,127
Total expenses
$765,746
$1,213,482
$1,561,556
$1,139,069
$1,098,582
Change in net assets
2021
2019
2018
2017
2016
Surplus (deficit)
$265,370
($318,532)
$2,852,892
($441,011)
($309,181)
Other changes in net assets
$0
$0
$0
$0
$0
Total change in net assets
$265,370
($318,532)
$2,852,892
($441,011)
($309,181)
---
Compensation
| | | |
| --- | --- | --- |
| Name | Title | Compensation |
| Mr Craig Scoon | Vice President/CFO | $107,416 |
| Mr Timothy Hibma | President/CEO | $65,003 |
| Mrs Cindy Hibma | Vice President | $65,003 |
| Dr William Kirwan | Director | $52,600 |
Compensation data as of: 6/30/2021
---
Response from ministry
No response has been provided by this ministry.
---
The information below was provided to MinistryWatch by the ministry itself. It was last updated 1/5/2023. To update the information below, please email: [email protected]
---
History
Clyde Narramore received his doctorate in psychology from Columbia University in 1949. At that time, western Christians were very skeptical of secular psychology, if not downright opposed to it. Although many thought of psychology as a threat to a Biblical understanding of proper ways for dealing with one's emotional struggles, Dr. Narramore courageously began a radio program with his wife, Ruth, in his own home entitled "Psychology for Living." In this program and throughout his professional life, he championed the integration of psychology and evangelical Christian faith to any who would listen.

Narramore Christian Foundation (NCF) was founded in 1956 as a nonprofit Christian foundation. Generous donations ever since that time have enabled this foundation to be a key resource for the development of strategic ministries that meet the spiritual and psychological needs of underserved populations in the United States and, increasingly, in the world.

Dr. Narramore's motto, "Every person is worth understanding" fueled his passion to see the needs of others wherever he went. He expanded the focus of ministry to Christian laypeople via an annual Bible conference at Lake Yale, Florida. The conferences, conducted from 1968 to 1991, always had a core theme-properly understood psychology and faithful interpretation of Scripture were compatible! Thousands of people were blessed, marriage and family relationships were strengthened, and personal growth resulted.

In 1970, Dr. Clyde Narramore, Dr. Bruce Narramore, his nephew, and the board of directors of NCF embarked on another new venture. Convinced of the need to train and equip Christian professional counselors and psychologists using a strong integration of Biblical truth and psychology excellence, they founded Rosemead Graduate School of Psychology. It was the first U.S. freestanding institution granting doctoral degrees in psychology to receive regional accreditation. Seven years later Rosemead's doctoral program and faculty moved to Biola College. In 1981, Biola's status changed, and its name became Biola University.

Using the same name as the radio show, "Dr. Clyde," as he was affectionately called, published the first issue of the periodical, Psychology for Living, in 1959. This journal built on the topics of the radio program. It provided the first in-depth written material for Christian laypeople to help them understand human nature, emotions, and relationships with God and others. From the exposure to integrated, Christian psychology, requests for referrals to Christian counselors, Christian mental health materials, and training poured in.

People primarily sought out their pastors for help with their relationship and emotional problems. But pastors often did not have the time or the expertise to handle the complex situations that parishioners and others presented. With the overwhelming need for Christian counseling based on a strong integration of Biblical and psychological truth evident, NCF established a Christian counseling center in Pasadena, California, in 1960. Later, NCF also established Christian counseling centers in Phoenix, Arizona, and in Harrisburg, Pennsylvania. Such centers were rare anywhere in the United States at that time.

Dr. Narramore was particularly devoted to helping pastors and missionaries deal with their family and personal issues, and to integrate their knowledge of Scripture with a healthy understanding of their spiritual, emotional, and psychological life. If these leaders could grasp and experience the truth and the benefit of this integration, they could bring similar understandings and healing to those whom they served. To this end, NCF began offering psychological services for missionaries and pastors in 1962.

In 1966, NCF hosted a seminar for ministers and missionaries in Rosemead, California-an intensive, three-week seminar in which the participants received personal counseling and training. Having experienced holistic, integrated training and personal, confidential emotional and spiritual care at the seminar, these participants were uniquely equipped to provide more effective support to their parishioners and young Christians dealing with emotional and relational issues. This seminar became the model for NCF seminars throughout the U.S. and around the world.

Seeing yet another group with unmet needs that was not being served, NCF began annual reentry programs for missionary kids, or "MKs," in 1979. These two-week seminars served the sons and daughters of missionaries who were high school seniors coming to North America for college. Although they carried North American passports, most had spent a majority of their childhood overseas. For their parents, U.S. or Canada was "home." But for many MKs, it was not home. They often felt that they neither fully belonged in their host culture overseas nor in their passport country. The reentry program was designed to prepare them for their major transition from mission life to North American college and culture. Through sessions on grieving losses, cultural adjustments, and dealing with uncertainty; confidential sessions with experienced, licensed clinicians and dorm devotions with fellow MKs and MK staff in college who had attended a reentry seminar previously; and through fun activities and conversations with other MKs with similar experiences and feelings, they gained new friendships and felt supported and understood. By 2018, NCF served more than 1,900 MKs!

NCF continues its MK ReEntry Seminars each summer, hosting young adults on the beautiful campus of Biola University, La Mirada, California. Approximately 40 MKs from around the globe gather to share together their joys of life as an MK/TCK (Third Culture Kid) and the struggles of frequent moves, grief and loss, and learning North American culture. With its vision to serve the underserved, NCF in 2001 developed and sponsored the first Doctor of Education in Christian Counseling program in Manila, Philippines, at the Asia Theological Seminary through the Asia Graduate School of Theology. The first students received their doctoral degrees in 2006. Now hosted at the Biblical Seminary of the Philippines and educating the fourth cohort of students, this NCF program is impacting the nations of India, Indonesia, Malaysia, Mongolia, Philippines, Singapore, and beyond through its students. In 2018 this training became a Ph.D. program in Clinical Christian Counseling and is arguably the best of its kind in Asia.

The first intensive, two-week Counseling and Member Care Seminar for missionaries and member care providers was offered in Thailand in 2002. NCF has continued to offer this intensive, life-changing seminar annually. In 2013 it began offering the seminar alternately in Thailand and Turkey, the two countries in which NCF helped found counseling centers for cross-cultural workers. In 2016, NCF offered a one-week Member Care Seminar for cross-cultural workers in the Philippines for Filipino mission leaders, missionaries, and those interested in developing member care within churches and organizations that are sending out missionaries. The 2020 Counseling and Member Care Seminar will be held near Athens, Greece.

With the vision of Dr. Bruce Narramore and Dr. Timothy Friesen, NCF helped found the Cornerstone Counseling Center in Chiang Mai, Thailand, to serve missionaries in 2004 (pictured at left). This center became a Thai foundation in 2006, and each year serves over 500 missionary individuals or families associated with over 120 organizations, as well as Thai individuals and couples, and the Thai church. NCF's President serves on Cornerstone Counseling Foundation's board of directors. NCF also assisted in establishing Olive Tree Counseling Center in Antalya, Turkey, in 2013. Their staff sees well over 300 clients each year, serving in over 60 countries and representing more than 150 organizations. NCF's Vice President of Operations serves on Olive Tree's board of directors. One of Olive Tree's beautiful counseling offices is pictured below.

The mission of the Narramore Christian Foundation remains strong: to meet the psychological needs of under served populations by providing services based on the integration of psychology and Scripture. NCF has been privileged each year to be able to provide limited grants and scholarships to individuals or organizations that help to facilitate its mission. NCF staff provide care and support for missionaries and their families through personal visits when possible and through internet communication. Referrals for Christian counseling and psychology services are also available.
---
Program accomplishments
---
Needs
Narramore Christian Foundation has a global vision of healing emotional wounds and building psychological resources in and for God's Kingdom workers. In order to implement this vision, we need your prayers and financial support. Together, we are changing the stories of those in ministry and missions around the world!

Investment earnings from our endowment funds provide a portion of what we need for our ministries. However, we need substantial additional donations to meet the growing costs of making our ministries affordable to missionaries and their families.

Please remember NCF ministries in prayer and support us with your donation today. May God provide you and us with wisdom, motivation, and opportunities to serve Him.